Hybrid MLT
The Hybrid MLT was our statement product for the year 2002. Here's how the 2002 to 2005 Hybrid MLT looked like: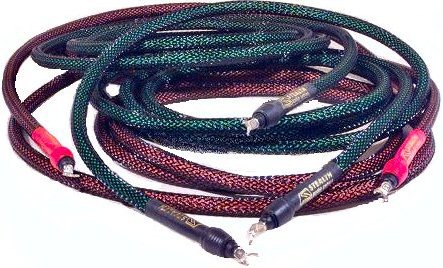 After several years in production, Hybrid MLT has got an updated looks and new spade lugs (still solid silver), it is still in production and is surpassed in sound quality only by our newest Dream speaker cables. Here's how the 2006 production Hybrid MLT looks like:
The original 2002 Hybrid MLT were equipped with the "original" STEALTH solid silver lugs designed in 1999:
Here's how these spade lugs look on cables (picture shows one used, beat-up spade which has been installed and removed several times; silver is a soft material, so the amp' and speakers binding posts leave clearly visible marks on the silver surface):
In 2005, our silver spade lugs were redesigned. All cables with STEALTH spade lugs, made in and after 2005, come with these new spade lugs. The material is still solid silver, but the new lugs are thicker and wider, which makes them stronger, and therefore they can sustain more installations without deforming than the "old" ones.
THE "Hybrid MLT" FEATURES SUMMARY
solid silver and solid copper hybrid construction (no plated materials);
layered foam Teflon dielectric;
heavy duty double outer jacket;
integrated strain relief;
over 1/2 inch overall diameter;
43-layer three-dimensional TCTA* multigauge matrix geometry;
solid silver STEALTH proprietary spade lugs standard;
optional Cryogenic treatment (special extended audiophile cycle);
A stereo set of Hybrid MLT consists of four separate cables: two go to the right speaker, and the other two go to the left; effective gauge of each of these cables is 10 - which makes it 7 AWG per speaker; these cables have almost non-existent capacitance, low inductance and, most important, extremely low overall "Q" factor (very good resonant properties to prevents cables from "ringing" - i.e. emphasizing any particular frequency in the audio range and far beyond); double measures have been taken to contradict skin effect: for each individual conductive strand, and separately - for the entire cable. The conductive material is proprietary: matrix-braided ultra-fine (the center strands are thinner than human hair - to eliminate time-domain distortion) individually Teflon® insulated strands of high purity silver, and then copper (going from the center of a cable to the outside). Extra layers of porous Teflon®, in combination with air in the center of the cable assure very low energy storage and therefore, the fastest possible propagation speed of an electrical signal along the cable; further, the cables feature our proprietary three-dimensional TCTA* multigauge matrix geometry (43 coaxial layers; three gauges of 99.997% pure silver and two gauges of OFC copper are used; all wires are individually insulated), making the signal "flow" uniform along and across the cable and assuring unsurpassed transparency, neutrality and resolution. Last, and certainly not least, Hybrid MLT are available with optional Cryogenic treatment (proprietary extended audiophile cycle - done on a custom basis, this requires approximately three weeks lead time) - adding the final touch in ultimate audio performance.

SOUND
How does this Hybrid MLT sound compares to the STEALTH UR sound?
The UR sound like very good silver cables, but Hybrid MLT sounds like nothing, it is specifically designed not to have any sonic signature;
"... Having STEALTH cables in my system and being a dealer for Interlink House I can be honest and state in full confidence that these new cables are unbelievably transparent, with superb imaging, and totally effortless in their presentation. I have tried many different brands of cabling throughout my system including a good deal from Stealth, and just plain got very frustrated in my inability to find that perfect cable, the one that would send goose bumps down my spine. The Hybrid is the first and only cable I can find NO weaknesses and enthralls me to no end. I can only advise all of you who have spent megabucks for Boutique cables, to stop and seriously audition these new Hybrids from Stealth. These just plainly show what be can be done with a man who knows what he is doing. Without question, the best I have heard and probably will ever hear by a long shot.
John L. Fairchild "Satellite to the stars"
PRICING
Suggested retail price for an 8 feet (2.5 meters) long set of Hybrid loudspeaker cables is $3,200.00, and $1,600 for each extra meter;
Optional Cryogenic treatment (extended audiophile cycle) adds $550 to the retail price (per a stereo set of 4 cables);
* TCTA stands for "Teflon-Conductor-Teflon-Air";